Problem Solving
If you cannot hear other person:
First, follow the steps in the section "Checking the Installation".
You should follow the steps in this section if:
the person you are calling can hear you, but you cannot hear the person you are calling;
OR

you went through the steps of checking the installation with the Sound Recorder and observed your voice signal in the Sound Recorder window, but did not hear anything upon playback.
Step 1. Make sure that the speaker plug (the one that has the extra speaker jack) is plugged into the speaker output of your PC sound card.

Step 2. Check that the PC microphone volume is adjusted to a sufficient level. At the bottom of your computer screen, double click on the speaker icon, or in the Start menu select "Programs", "Accessories", "Entertainment" (or "Multimedia"), "Volume Control".

Upon selecting "Volume Control", the Master Out panel will appear. It will be similar to the following: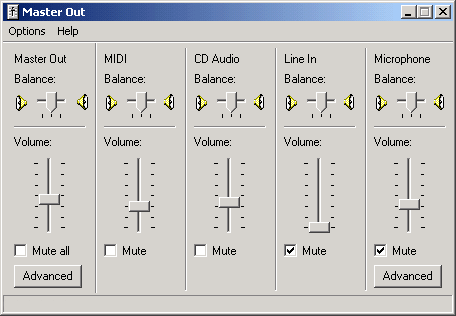 Note that the Master Out panel on your computer may have fewer or more controls, and they may be labeled differently.
Under the column labeled "Master Out", adjust the volume by sliding the volume control up.
Make sure that the "Mute all" box in the "Master Out" column is not checked. Some systems may have a "Select" box instead. In that case, make sure that the "Select" box is checked.
Make sure that the Master Out Balance is in the center position.
Step 3. Go through the steps of "Checking the Installation. If you still have no sound, you may need to re-install the driver for your sound card. Check the website of your sound card manufacturer for the latest driver for your model of sound card.