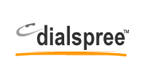 A trademark of
Net Enhancements, Inc.
Why a Dialspree handset?

Quick and easy:
No need to swap speaker connections every time you make a call - install once and forget about it.

Improved call quality:
Microphone designed for the unique frequency characteristics of Internet telephony for maximum voice clarity. Talk with no annoying echos for a clearer, higher quality call.

Ivory


Product Support


Translucent Blue

Model DS-1





| | | |
| --- | --- | --- |
| | | The Model DS-1 is our classic model of the Dialspree Internet Phone. Its traditional shape is designed to set squarely on your desk near your computer, ready to be picked up whenever you want to make a call. The cable provides an extra speaker jack for your external computer speakers to eliminate cable swapping. |


When you purchase a DialspreeTM Model DS-1 Internet Phone, you receive the following:

1 Model DS-1 Computer Handset
1 Interface Cable to connect to your PC soundcard
User Guide
90 Day limited warranty


Before purchasing your DialspreeTM Model DS-1 Internet Phone, make sure you have the following:

Pentium-class PC with standard Sound BlasterTM - compatible sound card. (Dialspree products are not compatible with the Apple Macintosh® because its sound card is different from the PC standard.)
Internet connection, 28.8 Kbps or faster
An Internet telephony service such as Dialpad, Net2Phone, DeltaThree, etc. You also can use the DialspreeTM handset with applications such as Microsoft's Net Meeting.

Electrical Specifications
Handset Microphone
Type
Electret Condensor
Sensitivity
-60 dB at 1 KHz
Frequency Range
Voice band
Power Source
Direct from sound card
Soundcard Interface
1/8" 3-conductor mini-plug
Receiver Element
Impedance
120 ohms
Soundcard Interface
1/8" 3-conductor mini-plug
External Speaker Connector
Connector Type
1/8" 3-conductor mini-jack

Mechanical Specifications


Operating Temperature
0 C to 70 C
Handset Dimensions
8.25" x 2.00" x 2.00"
Cable Length
6-1/2 feet
Handset Weight
8 oz (excluding packaging)
Colors
Ivory, Translucent Blue
Packaging
OEM


* All parameter values are approximate.